How To Use Pinterest for Your Business to Boost Traffic and Brand Promotion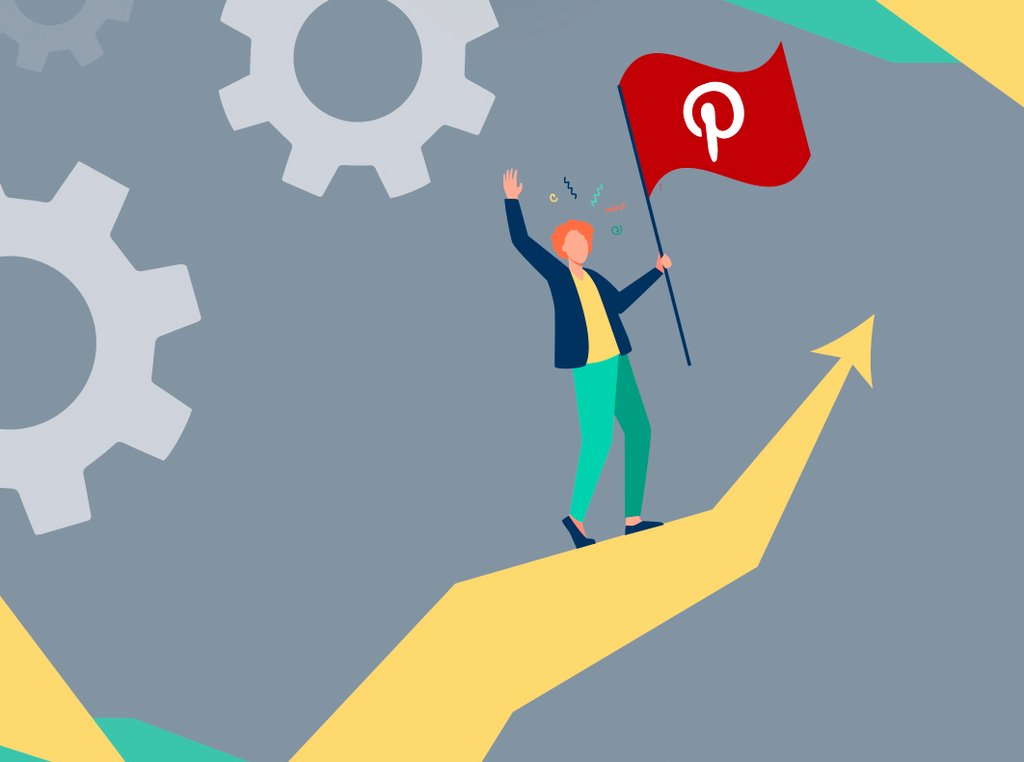 We often use social media based on photos to promote our business. The social network Pinterest offers excellent tools for advertising products and services. So what is Pinterest? It's a social network somewhat similar to Instagram. Users share various publications (photos) on it. They're arranged into blocks called "boards". The user can create as many of them as he needs, and give each a name, for example, "Family", "Friends", "Countries".
We will tell you how to use Pinterest for business and what strategies are the best to choose for this.
Table of contents:
How do I use Pinterest for business?
According to Pinterest analysts for 2020, about 400 million people use this social network, with 80% of them going through the feed from mobile devices. That's quite a lot, so consider registering your business on Pinterest if you aren't there yet.
The network includes both users with personal accounts and businesses. The company profile usually contains pins with products, photos, previews of articles. The user can go to the site from the pin and find out the details, buy something or register.
Using Pinterest business tools will help you develop your business. After all, Pinterest is the fourth most popular social media platform in the US. It is ahead of Twitter, LinkedIn, Whatsapp, and Snapchat. Approximately 28% of the US adult population has a Pinterest account.
This unique social network meets the needs of Gen Z and millennials who want to search not by words, but by pictures. According to the company, Pinterest Lens is now able to identify over 2.5 billion household and fashion items.
People are actively using Pinterest for shopping. 83% of social network users make purchases based on the content they see from brands on this platform.
75% of Pinterest users say they are "very interested" in new products, compared to 55% of other digital channels. About 77% of weekly users regularly discover new brands and products on Pinterest.
What strategy to use to promote your business on Pinterest
Here are 5 great Pinterest business strategies to help grow your account.
Create engaging content
Visuals speak volumes on Pinterest. 85% of social media users place more value on visuals than text. But that doesn't mean you should forget about the text.
What makes a good pin:
Vertical images. Exactly 85% of pinners use mobile devices.

Create text for the image. Tell people what they see and encourage them to learn more.

Come up with a striking headline for your text.

Customize your pin to match your brand.

Tell customers a compelling story about your brand.
Optimize Pinterest for SEO
Even though Pinterest is a visual search system, keywords are very important. Use them in the description of your company, on the message board, in contacts. Hashtags are useful too: with their help users will search for the necessary product or information.
Plan seasonal content ahead of time
Another good Pinterest business tip. Pinners love to plan. They love to be ahead. This means you must be a great planner. Share seasonal content 30-45 days before a certain event occurs.
Following these tactics pays dividends. Promoted badges that match moments of life and the holidays increase online sales by 22%, according to Pinterest.
Find inspiration in the Pinterest Seasonal Insights Planner. Choose the holidays to create content around and make sure you are using the matching keywords.
Make it easier for your pinners to make purchases
Users of this social network are very fond of shopping. You can make it easier for them with one of the Pinterest business tools.
One way to do this is to use Shop the Look pins. These are truly magical icons. Pinner can click on the item of interest, go to the product page and buy if the offer suits him.
Target the right pinners with ads
Another Pinterest business marketing idea. You can target your ads for keywords, interests, age, locations, and other demographic information.
You can target:
People who visited your site

People who interacted with your Pins

People who have worked with similar content
You can also choose one of the existing audiences as a source, and the social network itself will select like-minded people for you.
How to create a Pinterest business account
If you want to develop your business on Pinterest, then you should choose the appropriate type of account. Read on to find out how a business account differs from a personal one and what are its advantages.
Pinterest business account vs personal
Generally, the view of both personal and business accounts is practically the same, but the latter gives you access to online commerce, advertising and free analytics. Pinterest emphasizes that any account created for commercial purposes must be registered with the company. The account owner should agree to the terms of use.
Once you've registered a business account, it becomes possible to promote your products and services, reaching a much larger audience. You can create Pins, group products on boards for specific audiences, and create boards and pins for special offers. Pinterest also serves as a directory where you can list your products by adding a link to your site to your Pin.
How does a Pinterest business account work
After you create a Pinterest business account, you will have:
spectacular profile with a beautiful cover;

express analytics;

obtaining detailed statistics;

the ability to automatically publish Pins;

the ability to launch a pin carousel;

schedule for publications;

convenient pin editor with an option to simultaneously process multiple images.
A business account on Pinterest will allow you to get maximum benefits. It means great opportunities for your business.
Benefits of a Pinterest business account
Pinterest is a worthy competitor to other sales and promotion platforms. Advertisements on Pinterest have been proven to generate 3.8 times more grocery product sales than the average online campaign.
Another benefit of using Pinterest for business is driving additional traffic to your site. On the platform, you can post exclusive content that will encourage users to go to the site. All of these benefits can be used for teamwork, as you can create group boards on Pinterest.
Using a Pinterest business account is a great way to interact with your audience. In the long term, this tool allows you to build a consistent audience. Also, don't forget that Pinterest is a social network that you can use to build an entire community around your brand.
Pinterest business tools
There are several Pinterest business tools available to help you grow your business.
Pinterest advertisement. The social network offers users a wide variety of formats for this tool:

• Promotional pins. Greatly increase engagement and traffic.
• Promotional videos. Business account holders can upload videos directly to the platform.
• Carousel. They are image galleries that can be used for advertising.
•

Pins for mobile applications. This format makes the platform a true competitor to online stores by allowing users to download apps directly from Pinterest.




Detailed pins

Detailed Pins provide context for the advertised product or service. They use metadata and allow users to push products directly from your site. These can be product pins, recipe pins, article pins, or app pins.


Pinterest Analytics



Another powerful

Pinterest business tool. Facebook and Google Analytics are versatile and powerful tools for any company. But Pinterest also has an analytics tool to help you develop a strategy and then track its performance. If you connect your website and other platforms to your business account, analytics will show traffic to the site not only from Pinterest, but also from other channels. Pinterest analytics show demographics, interests of your audience, and helps you track campaign performance.


Widget constructor



You can install Pinterest buttons and widgets on your site or app to enable users to push pictures and videos onto their boards directly from your site or app. Save and Subscribe buttons, widgets for embedding pins into your site, a profile widget that shows your recent pins, and a board widget that shows a specific board are all tools to help you get the most out of your platform promotion.
How do I create a business page on Pinterest?
There are three ways to create a Pinterest business account:
If you have registered on Pinterest, you can transfer your personal page to business by changing your profile settings.

You can add a business profile to your personal account, with the ability to switch from one to another.

Register a new business account starting from scratch.
We'll show you how to create a Pinterest account from scratch.
Go to pinterest.com/business/create. Enter your email, password, business type, click Create Account.
After you choose your language and location, enter the name of the business.
Link to your Instagram, YouTube, Etsy accounts
Let Pinterest know if you plan to advertise on the platform. Go to profile editing. Click the pencil icon next to your name. Change your profile name, add a profile photo that represents your brand. Dimensions should be 165 x 165 pixels.
Click "Claim" in the left menu to claim your website. This will allow you to track site analytics.
From your profile, click the plus sign above Create Board. Add a title and description that includes keywords. Be sure to select a category for your board.
Create your first pin. In the control panel, click the plus sign in the upper right corner. Add a title and description with keywords and hashtags. Include a targeted link. Upload an image or video.
Choose a cover for your profile.
Add a Pinterest tag. Adding a tag will allow you to analyze conversions and understand what people are doing on your site after viewing your Pins. That's it, your business account is ready. You can start attracting subscribers!
The Basic tactics on Pinterest for business promotion
We've collected 9 Pinterest marketing tactics to grow in 2021:
Don't forget about keywords.

Reply to comments or post them.

Claim your website and other social profiles.

Optimize your boards with keyword descriptions.

Creating multiple pins for the same article.

Track analytic.

Automate your content.

Make sure fresh content flows through your boards.

Invest in high quality images.
Using Pinterest is an essential part of any online marketing strategy. This original social network allows you to connect with and interact with your audience, promote your products and services, and expand your online presence. Take advantage of its benefits.